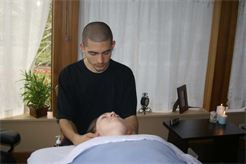 "It's important to me that each person gets the massage they want. Because of this, I tend to blend techniques from different massage modalities to fit each client's individual needs. We'll discuss what you're looking for, so that you get the massage you want."
Therapeutic Massage
Reduces muscle tension, increases joint mobility/range of motion, and corrects postural imbalances. This is ideal for correcting long-term imbalances from chronic holding patterns, and is an excellent choice for athletes who want to improve their performance.
Relaxation Massage
A perfect remedy for stress. The soothing, relaxing experience of a full-body massage allows you to breathe easier with worries melting away. This is great for anyone with stress in life, especially those who do office work, spending a lot of time in front of a computer.
Medical Massage
Follows your doctor's prescription and is often aimed at reducing pain and dysfunction associated with physical trauma. Medical Massage is covered by many insurance companies.  Bryan takes care of the paperwork for you, billing your insurance company directly, making recovery simple! (Currently, Bryan only bills Auto Insurance, not Health Insurance or Workers' Compensation Insurance).  
See: Auto Accidents.
Chair Massage
Sit in a massage chair, designed for comfort, and receive
neck
, 
back
 and shoulder massage to work out knots and feel good. Remain fully clothed for comfort and convenience. This is often a favorite at corporate health fairs and other special events.